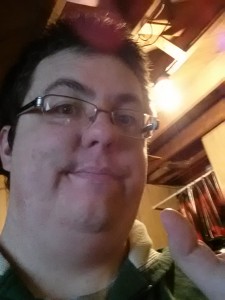 Hello!
My name is Mercurius…but, you can call me by my real name, Fred Francis. I was born on July 13, 1982, with a disorder called Aspergers Syndrome, which is part of the "Austism Spectrum".
I live in a town of over 6,000 people, Maquoketa, IA (pounced MA-KO-KIT-AH) which is about midway between Davenport and Dubuque.
Besides Sailor Moon, I'm into pro wrestling (WWE, most likely), and play video games like Grand Theft Auto, WWE, and Call of Duty…not very good, but decent player on all those.
How did you get into Sailor Moon?
When I was in my teens, abound 1996, I was a big Sonic the Hedgehog fan. Played the games and such, but this also during the time when my step-father kept telling me that "Sonic Sucks!", thinking it was a joke to him. After months of his remarks, I thought it's best to move on, and let him win. So, I was flipping the channels, in the morning, cause I was getting ready for school. Suddenly, I stopped changing channels, cause they're showing a different sort of cartoons. At first, it blew my mind that these exist, but it's a new experience. What was the show, in the mornings? Sailor Moon, of course!
At the time, DiC was dubbing it, and I hardly knew the show, for a while. That's when I started looking on the net, for more info. What I found on there, about more episodes, and how uncut it was, made me a fan even more. I remember, when I was in the waiting room of the hospital, in Dubuque, the TV was showing Sailor Moon on Cartoon Network's Toonami. That's when I got hooked, and kept watching every episode, learned every character, etc., etc., etc. It even want me to go to Tokyo, to see the sites, the series is based on.
Who's your favorite Sailor Guardian/Senshi/Scout?
At first, it was Ami Mizuno/Sailor Mercury, cause she's got the brains and knowledge to overcome odds. At the same time, she had a very sad childhood, when her father divorced her mother, which is what I dealt with, when I was young. She's still my favorite, but coming in close 2nd is Makoto Kino/Sailor Jupiter! Not only she's tall, but she can fight and be a good cook…I'm not good at cooking, though. LOL
What made you decide to start making comparison pics?
Sailor Moon Crystal was criticized for its bad animation, due to Toei's outsourcing its animation department towards four different studios, and making memes out of it. So, when the BluRay Limited Release editions were coming out, we didn't know what to expect from Toei. But, when they released a preview clip, it's much different than what we saw, when it aired. I dug in my wallet to buy them from CDJapan, and thought about making comparison pics, to show how much the animation was changed, so they can feel much better about it. After the first volume came out, and going though each frame, people loved it on both twitter and tumblr! They feel better, as much as I do.
Now, with this site, it'll be a much better home for posting comparison pics, to share with you all!
I'll continue to work hard, and make more shots of how much each episode was changed.
Current Equipment Used for Screenshots
Special Thanks
Dan Bednarski & Elly Winters of another Sailor Moon site, missdream.org, for helping me start this site up. You guys are the best, and continue to do what you do best!
"Princess" Naoko Takeuchi, for bringing Sailor Moon to life, in manga, anime, and live action forms. You're an inspiration to many of us, though this beloved adventure.
And to you, the fans. Your continuous support helps me buy more volumes of this newly-adapted anime, that we all love.